This memorial website was created in the memory of our baby girl Hannah Shea Kirchner, who was born on January 09, 2007 and entered into heaven on April 04, 2007. Our little girl Hannah will forever be in our hearts. We love and miss her dearly.


The day that our little Hannah Shea entered into our world was one of the most wonderful days of our lives. Our dream of having the perfect family had come true. I had always dreamt of having a little girl to add to our family after Jacob was born. I had even wished for her on my birthday. I later found out my wish was about to come true. Approximately two weeks after my birthday it was confirmed- Hannah was on the way! I shared the news to Randy by having Jacob wear a shirt that said "Future Big Brother". Randy was so excited!


Hannah's birth was very different from her big brother Jacob (who took over 24 hours to get here!). I was induced on January 9th, at approximately 8:30 in the morning. She made her entrance at 12:43 pm, weighing 6 pounds, 12 ounces and measuring 18 3/4 inches long. Hannah was a beautiful baby from the start with lots of dark hair and a great smile. She absolutely loved to be talked to and to be cuddled. I miss that so much. I miss feeling her soft hair against my check and that great baby smell that she had. Life was absolutely wonderful with Hannah in it. Soon our lives would change though, in a way that we never thought possible.

Ten fingers, ten toes....perfect in every way!


The morning of April 4th, 2007, will be a date burned into my heart forever. I took Hannah and her big brother to daycare as I normally did. After giving a Jacob a big hug and kiss good-bye, I took Hannah out of her carseat to do the same. Little did I know though, this would be my last kiss and hug to her while alive. After handing Hannah over to Vicky, our daycare lady, Hannah gave me the biggest, brightest smile. I will never forget it. I thanked her for the smile and caressed her cheek with my finger as I often did.

Later that morning at work, I got the call that every parent fears. Vicky called to say that our little Hannah didn't wake up from her nap and that she had found her blue. From that moment on, I felt like I was in the worst nightmare possible. I raced to Vicky's house only to find my little Hannah lifeless. After many attempts by me and Vicky to revive her, the ambulance finally arrived - it seemed like an eternity.

Randy met me at the hospital where we waited together to hear the news on Hannah. Soon, the ER doctor came to us to say that they did everything that they could, but they could not bring our little Hannah back. She was declared gone at 12:02 pm; the believed cause of death - Sudden Infant Death Syndrome.



Losing a child is the worst possible feeling ever. It is an emptiness that is unexplainable and a longing that burns deep within. Our arms ache constantly to hold our little Hannah. We hang onto the hope though, that we will hold Hannah again. The time will come someday when we are reunited with our sweet little angel in heaven. It will be a glorious reunion that I can hardly wait for. To see Hannah's beautiful smile again will be an absolute dream come true.


I miss these tiny toes..
Special Angel in Heaven
There's a special Angel in Heaven
that is a part of me.
It is not where I wanted her
but where God wanted her to be.

She was here but just a moment
like a night time shooting star.
And though she is in Heaven
she isn't very far.

She touched the heart of many
like only an Angel can do.
I would've held her every minute
if the end I only knew.

So I send this special message
to the Heaven up above.
Please take care of my Angel
and send her all my love.
~author unknown




Hannah has always been our sweet
Angel; she just now has her wings.






Our Little Angel
You were our little Angel
we loved to hold so close,
the softness of your baby skin
like petals of a rose.

We loved it when we cuddled you
and held you in our arms.
You were our little angel
with sweet angelic charms.

We think back to memories
so precious and so few,
for one day God had chosen you
to be his angel too.
~author unknown


Most people only dream of angels;
I got to hold one in my arms.
Memories

If we could have a lifetime with
A dream that would come true,
We'd pray to God with all our hearts
For yesterday and You.
A thousand words can't bring you back
We know because we've tried....
Neither will a thousand tears
We know because we've cried....
You left behind our broken hearts
And happy memories too....
But we never wanted memories
We only wanted You.
~author unknown






We thought of you with love today,
But that is nothing new.
We thought about you yesterday
And days before that too.

We think of you in silence
We often speak your name.
All we have now are memories
And a picture in a frame.

Your memory is our keepsake
With which we'll never part.
God holds you in His arms
We hold you in our hearts.
~author unknown






Thank You Mommy
Thank you Mommy for giving birth to me
God made me so beautiful as you can see.

Thank you Mommy for nourishing my body and soul,
You always made me feel so safe;
Even when we went for a stroll.

Thank you Mommy for letting Jacob count my toes
I loved to have you soothe and touch my nose.

Thank you Mommy for such good care
Dressing me so pretty with barrettes in my hair.

Thank you Mommy for all of your love
I still feel your warmth from heaven up above.

Thank you Mommy for making me happy and merry
Remember, I'll always be your sweet little fairy.

~Written by Grandma Helen Ekeren

All of our hopes and dreams for you are now carried on butterfly wings.


Hannah's funeral program
Messages to Hannah From Mommy
April 4th, 2014
Seven years ago today Hannah, you left this world and went to a place that we can only dream of and imagine. I hold onto the belief that you are in a great, beautiful place where I will see you again. But, I have to admit, there are times that I question my faith and my beliefs. I do often wonder if there is such a beautiful place like Heaven where I will get to hold you again? Do you live on in the afterlife? Is your presence still with us? When my faith is shakened, there seems to be a sign that comes thru from you. Whether it is a beautiful butterfly, a pink sunset or a twinkle in the eye of your brother's eye, I am reminded you are here. I also find it amazing how you have touched the lives of so many in the short time that you were with us. Because of you, people have been inspired and reminded that life is precious. These special people also help remind me that I will see you again someday. I would like to share the stories of two people who do such that. I am hoping that by sharing these stories, it reminds others who question their faith, that there is more than our current life to look forward to….there is also the afterlife.

The first touching story comes from a relative who lives miles (actually states) away. Her young daughter, who had never met you Hannah, got to experience you in a different way. She also shares how you were with your grandpa Orville who passed away a couple years ago. Her daughter's experience comes while under anesthesia for surgery. This is the touching story that she shared with me.

"Susan~ I've been wanting to tell you for some time, but didn't quite know how or if you'd want to know... when Hali was put under for her arm placement, she woke up talking about going to Saturn and Mars, and then said she was with God. Later on, she was telling my mom about being with Jesus. She also said she was playing with her cousin Hannah. They were in the church and they were taking turns going down a pole - like there is in a firehouse. I asked her later on what color Hannah's eyes and hair were and she responded matter of factly, "both brown." She said Hannah was about her age. She also said she met Uncle Orville in heaven, but he was young. She said she knew it was him because he had a toothpick in his mouth and suspenders on. I just thought you'd like to know Hannah is doing very well and Orville is watching over her."

Months later Hali shared more of her experience with Hannah to her mother….….

"We were driving in our truck & I gave Hali my phone to show her your web page you made for Hannah & her memory that lives on. She was quiet for a long time and was looking through every picture. I asked her after she sat in silence for so long, still looking through the pictures, "is that how Hannah looked in heaven?" "No, she was older, like 6 probably." I replied, "does she look similar?" She stated, "well, her hair is a lot longer, her cheeks aren't as round, but those are her eyes." After piercing my heart, I asked, "did she ever say anything about her family? She thought and then said, "I can't remember what she said about her mom but I do know she said, I miss her very much & will be with her one day." I'm sending this with lots of love & hugs to you. One day Susan, you will have your entire family in your arms. You are loved."

Hali, in her innocent way, has reminded me that you are in a safe place Hannah and that there will be a day that we will be together again. I hold onto these sweet words said by this little girl with all of my heart.

The next inspirational story comes from a nurse that worked on you in the ER on your final day with us. Until this day, I keep in touch with this special lady. Because of you Hannah, her life has been touched in a way that only a little angel could do……..

"Here is my story about Hannah and my daughter Bria. Since she was born, Bria had a little pink security blanket with pink satin edging. She loved that thing....it went everywhere with her! Bria will be 6 in another month, and up until February I had been trying to "wean" the blankie away. Around Christmas time, I told her that pretty soon the "blankie fairy" would take her blankie, wash it up, and give it to a baby who really needs a blankie but doesn't have one. She was adamant that she would hide her blankie and no one--not even the blankie fairy--would find it and take it away. I kept bringing the subject up, and she finally started to think that "maybe" it would be ok for the fairy to give it to a baby girl. One day near the end if February, her blankie disappeared. I've turned the house upside down and could not find it anywhere. I thought for sure it would be a tragedy for Bria. Surprisingly, she cried a bit the first night, & she hasn't given it a second thought until last Friday night. This is where I get the goosebumps :0) It was about 1 am and I couldn't sleep so I got up and watched TV, and started getting caught up on Facebook. Bria came out and asked if she could snuggle with me, so she crawled up on my lap and sat and I scrolled through the posts on FB. All of the sudden Bria yelled "stop mom! Go back go back!" As I scrolled back, she pointed at a status update of yours. She put her finger on Hannah's picture and she said "mommy I know that baby. She's the one that got my blankie from the blankie fairy!" I was shocked. Bria had never seen your pics of Hannah before. While I have a butterfly sun catcher that the girls know is special to me, they don't know the story behind it. I've never spoken Hannah's name to the girls or told them about her. So for Bria to pick out HER picture just blew me away. I asked Bria, "How do you know that's the baby who got your blankie? Do you know her name?" I was still convinced she had confused Hannah with someone else. Susan, without any pause at all, Bria said "mommy, that's Hannah. And I saw her, only she was sitting up. But she was wearing a white shiny dress and I think she had a necklace on, and she was holding my little blankie and she smiled at me." I almost couldn't breathe! I didn't know what to say, but I tried to act calm because I didn't want her to lose track of her thoughts because I was so surprised. I asked her again how she knew her name and if she had ever met Hannah. She said "mommy, I can't meet Hannah because remember? The blankie fairy takes blankies to babies in HEAVEN." When she said this, she almost sounded frustrated, like I should know this information already and she shouldn't have to tell me. I was still in awe, but I asked her how she saw Hannah if she was in heaven. Again, she was frustrated, and let out a big sigh before she said "mommy! When you see people in heaven, you just close your eyes and you see them. You don't actually MEET them mommy. That's how I saw Hannah….and nobody told me her name, because I just knew when I saw her that she was Hannah. That's all." I told her that she was such a special little girl to let the fairy give her blankie to Hannah. And that Hannah was the perfect one to get her blankie! Bria was just "normal" about it - as if what she told me was no different than her asking me for her Lucky Charms for breakfast. After she told me about Hannah, she just went back to bed. I sat in the living room and cried in disbelief. I didn't even know what to think, and I was trying to grasp the fact that she really "knew" Hannah. The next morning, I asked Bria how her night was. She said "it was fine." I asked her if she saw Hannah again, and she just said "who? Who is Hannah?" I started asking her about sitting on my lap, and telling me about the baby who got her blankie from the blankie fairy. She remembered NOTHING! She denied even waking up and coming out to the living room. I showed her Hannah's picture on FB and asked her if she knew who it was. She simply shrugged her shoulders and said "no." It's been almost a week, and she still says she doesn't know who the blankie fairy gave her blankie to. I still am amazed and can't really grasp the whole thing. I very strongly believe in Angels, and Heaven, and that our loved ones are watching over us. I hope it helps to give you a little more peace to know that Hannah still makes her presence known."
I felt like I needed to share both of these stories from the two very special ladies in my life. Both stories are unique, but both share a similar message. I thank both of them from the bottom of my heart for sharing these touching, inspirational stories with me. They have lifted my heavy heart and have reminded me that even though you are not here physically Hannah, your presence is here, and I will see you again. They both also remind me of how you have touched so many lives in such special little ways. I am so blessed that you were a part of my life Hannah. You have changed me, taught me, inspired me, and blessed my life in a way that only a little angel could do. Another painful year has gone by of missing you my sweet Hannah, but it brings me another year closer to seeing your beautiful little face again. Much love to you Hannah. Shine bright my little angel.

January 9, 2014
Trust in God. These words I hold onto and remind myself every day. I trust in God that there was a reason why you had to leave this world so early. Three months was not long enough to be with us. I trust in God that someday, this will all make sense. In my heart and in my mind I don't understand why…..you were perfect in every way. I trust in God that he will continue to carry us thru our most difficult and darkest days. Losing you has been overwhelming at times. When you left, so did a piece of me. I trust in God that I will see you and your sweet face again. Right now, that time can't seem to come soon enough. Until that glorious day that I am with you again Hannah, I will continue to look for you in your gentle butterflies, beautiful pink sunsets, and in the smiles of your brothers. Please know Hannah that I am thinking of you today and every day. I will continue to trust in God and hold you in my heart now and forever. Happy 7th birthday sweet girl. I love and miss you so very much Hannah. Love~ Mommy

"If there ever comes a day when we can't be together, keep me in your heart, I'll stay there forever" ~Winnie the Pooh

February 15th, 2013
I went to sleep with you on mind last night, and woke up this morning with thoughts still of you. It was very early and I tried to get back to sleep, but couldn't find the peace to do so. I have many nights and mornings like this, but this morning was different…..I wasn't the only one having trouble sleeping and thinking of you. As I lay in bed, I heard footsteps approach my side of the bed. I turned to find your big brother Jacob. As he stood by my bed, with tears coming down his little cheeks, he said that he couldn't sleep and all he could think about was you. He said that he wanted you home so bad. As he sat in bed with me, he said that he wished he had a time machine so that he could go back in time and get you before you took your nap…..your final nap here on earth. My heart felt so heavy for Jacob. I want to take away this pain he feels in his little heart for you. I hope you know Hannah how much you are missed and loved. We all would do anything to have you home. I find this more than coincidence that two people who love you so dearly were thinking about you at the exact same time, in the wee hours of the morning. I believe that it was your way of bringing us together, reminding us that we are not alone, in the times that we miss you more than anything. We will love you forever Hannah. Keep sending us your sweet signs that you are near. Love ~ Mommy

January 9, 2013
Happy 6th birthday my sweet little Hannah. I can just imagine my little school girl today inspired by dolls, dresses and everything shiny & sparkling. Imagination is all that I have left of you. I imagine and wonder everyday what kind of little girl you would be. It's hard not to wonder….I am reminded each and every day of the little girl I had, the little girl that should be here with her family. All I have now are hopes, wishes and dreams of what may be some day again….to see you again. Until then, I have to overcome reality. Reality of what should have been is now gone. It's hard to accept this reality though, when there is not an understanding of why. Why did you have to go? Why did this have to happen? Why didn't I do things differently? Why couldn't I have saved you? It's these questions that hang such heaviness on my shoulders and in my heart. Today we had a mass for you at church. Father talked about the storms of life and getting thru those storms. He reminded me that we are to turn to God and those around us for love and support to help us get thru the challenges that we cannot face alone. I am trying to remind myself of these words today, a very difficult day. I will also try to hang onto these words when it takes all of my strength just to open my eyes to this reality every day. Please Hannah, continue to be with us and carry us thru the storm of missing you and the reality that we face each day. I just love and miss you so much little girl. Mommy hopes all of your wishes come true today on your birthday. With all of my love, Mommy.

January 9, 2012
Happy 5th birthday my little Angel. I can't believe that my little girl would be five years old. I wonder all the time what kind of little girl you would have grown up to be….sweet & shy like your older brother Jacob, or outgoing and silly like your little brother Dylan…..maybe a mixture of both? I can only imagine. I often find myself looking at pictures of Jacob when he was your age hoping to catch a glimmer of you and wonder if you would look any similar. I would do anything to get a glimpse of what could have been. As each birthday passes, more reality sets in of all the milestones missed and all of our hopes & dreams for you that were taken away. I find myself wishing all of the time that things were different. What happened to you Hannah changed my life forever and took away some of the sunshine that I long for again. The sunshine that I do have is your brothers. I try to focus on them to get me thru the bad days. They are my little rays of light, my hope for better days and my little true believers. They help remind me that life is worth living and slowly things will get better. Just the other day, Jacob did such a reminder. On the way to school one morning, out of the silence in the car, Jacob said to me while looking out the window, "Mommy, I miss Hannah. But, it makes me happy that she is in Heaven where she will always be safe and will never get hurt". Then in his innocent, positive little way, went onto to say, "Mommy, you don't need to worry, we will see Hannah again someday. Until then, we just need to enjoy each day." Such big words from such a little boy. I do believe that you are in Heaven Hannah. I believe also that you are safe and that we will see you again someday. It is until then, please help mommy thru the dark days so that I can enjoy and make the most of each precious day that I have with your brothers. I want to be the best mommy I can to them until the day that I am reunited with you again. Today on your special day Hannah, I pray that you are having a beautiful birthday celebration in Heaven. I also pray that you continue to be with us and the power of believing brings me to you again someday. I hang onto these prayers with all of my heart. I love you my sweet little girl.
Happy Birthday Hannah. Love always, mommy.

February 24, 2011
I had a dream about you last night my sweet Hannah. It wasn't the frightening kind that haunts me to this day. Instead, it was one that made me long for you even more. I dreamt that I was nursing you. To some, this may seem like a bizarre dream, but to me it makes perfect sense. I loved nothing more than our quiet time spent together like this. In my dream, I held you close. You gazed up at me with your beautiful bright eyes. I sensed such innocence and love as you looked at me. The dream seemed so real - I could almost feel the warmth of your little body next to mine. I long for nothing more than to have you in my arms like this again Hannah. I love that I got to see you in my dreams last night. What I hate, is having to wake up. It is not often that I get to have such a sweet dream of you Hannah. I hope and pray that this dream is somehow a sign that you are still here with me, and it is your way of sending me your love from Heaven. Although short, please never forget our special times that we got to share together. I am holding onto them with all of my heart, with all of my being. I love and miss you so very much Hannah. Please visit me in my dreams again soon sweetheart. Love, Mommy

"Pay attention to your dreams - God's angels often speak directly to our hearts when we are asleep."
~The Angels' Little Instruction Book by Eileen Elias Freeman

January 9, 2011
Happy 4th Birthday my sweet daughter. Today we celebrate the day that you entered our lives and brought us so much joy. The cake is frosted, the balloons are floating and the presents are wrapped. But, it is far from a normal birthday for a little girl. The balloons are sent to Heaven, the presents donated to the hospital, and your daddy, brothers and I blow out the four candles on your cake. This is our "normal" for celebrating your birthday. There is no little girl here to sing happy birthday to, no little girl to shower with birthday hugs & kisses. It is such a bittersweet day for us Hannah. This day brings back so many cherished memories of when you were born. How I wish I could turn back time and freeze it. They say time heals all. To me, the only thing that time does is give me minutes in the day to hide the pain and let the numbness set in. Being numb seems to be the only way of getting thru this day, as many. Please know Hannah, even though mommy sheds tears today on your special day, that in my heart, I am celebrating your special day – the magical day that you were born. Happy Birthday my sweet Hannah. Mommy loves and misses you so very much.

The Moment That You Were Born

May we always remember the moment….
that wonderful magical
moment you were born.

The tears of joy, the sheer relief, the awesome miracle.

May we always remember the moment….
that one perfect memory
that will live forever in our hearts….
the wonderful, magical moment you were born.
September 17, 2010
Hannah~ I woke this morning to a beautiful, crisp, sunny day. It made me want to take a walk around our old neighborhood - the neighborhood where we had our first home, Jacob and you. So many memories live in this home and in this neighborhood. As I walked the same route as I always did when we lived there, it brought me back to the day that I took you for your first walk. It was the same sunny, bright, crisp day as today. You were wore a cute little pink sun hat. You seemed to love taking that walk that morning. You were so content with big bright eyes taking in every tree, every bird, every home along our path. As I walked along this morning, I was flooded with memories of you and that day. I could almost hear the soft rumble of your stroller going along the cobble stone street. As I turned the corner to our old house, the overwhelmness took my breath away and made my heart stop. So many memories made there with you here, so little time with you. As I walked by the house it brought me to the moment of you and me sitting on the porch after our walk. We sat on the porch together soaking up the warm sun. I will never forget your sweet little face gazing up at the flag we had hanging on one of the banisters of the front porch. You watched the flag blowing softly in the breeze in such amazement and wonder. It seemed to dance softly for you. I will never, ever, forget that. You had the sweetest look on your face taking it all in. You watched it for quite awhile. It is moments like this one that I wish I would have absorbed better of you. It is moments like this one I wish I had more of with you. This day was the only day I got to take a walk with you. You had so many more things to learn about and absorb Hannah. You should have had more days of watching the flag dance in the wind. Now Hannah, it is you that dances softly in the wind. And even though you are not here physically, I hope and pray that you still walk with me, everyday, by my side. Please know Hannah that I am hanging onto all my memories with you with all of my heart. It is all that I have of you now. I love and miss you so very, very much Hannah. Love, mommy.
January 9, 2010
The day that you were born three years ago Hannah, all of my dreams had come true. You were the perfect little girl that I had always dreamt of and ever wanted. A little girl to dress up pretty, play Barbies with, paint each others nails, put ponies in your hair, share secrets with and all of those other little "girlie" moments that a mother and daughter share. I was looking forward to spending those moments with you Hannah....so much. Most importantly, I dreamt of having that special bond with you that only a mother and daughter can have. Since you left, I can't say that I believe in dreaming anymore. I know how dreams can be taken away, leaving you heartbroken and hurt. Hannah, I hope for you that dreams are much better in Heaven. I hope that every dream that you wish for comes true, and brings you happiness beyond words. You deserve every magical moment that you ever wish for. If I were to wish one more wish, one more dream, it would be to be with you. This I can only hope for. Happy third birthday sweet Hannah. I love you baby girl - now and forever.
~~A dream is a wish from the heart~~

April 4, 2010
Hurt. Emptiness. Isolation. Longing. Sadness. Anxiety. Anger. Confusion. These are the many feelings that have taken over my life since losing you Hannah. Even after three years, I find myself struggling to fight these feelings that haunt me until this day. To live without you and move on is painful Hannah. You were a perfect, beautiful little girl who was ripped away from us so unexpectedly, so unfairly, and I don't understand why. I don't understand God's ways. I feel that I have been given a life sentence - a sentence of never seeing true happiness and peace again. There are always reminders of what could have been and reminders of what we have lost. It's difficult to look to the future without you. The only thing that keeps me going is to hang onto the hope of seeing you again. It has been another tough year without you Hannah, but it is another year closer to seeing your sweet face again. Sending you all of my love baby girl and holding onto that hope with all of my heart, love~ mommy.

April 4, 2009
I can't believe that you have been gone 2 years sweet Hannah. Some days it feels like an eternity since I last saw you, held you, kissed those sweet cheeks and looked into those sparkling eyes of yours. Other days, it seems like the terrible day that you were taken from us was just yesterday. It is memories of that day I wish I could erase from my memory. I wish for precious, wonderful memories of you - not haunting, awful ones. My life now is overflowing of many wishes of you Hannah. I wish this would have never happened to you, I wish I would have done things differently, I wish for this pain to be gone....
I wish the most to have you here, alive and well. I find the following wish list very true to heart.....I love you Hannah.

BEREAVED PARENTS WISH LIST
I wish my child hadn't died. I wish I had her back.

I wish you wouldn't be afraid to speak my child's name. My child lived and is very important to me. I need to hear that she was important to you also.

If I cry and get emotional when you talk about my child, I wish you knew that it isn't because you have hurt me. My child's death is the cause of my tears. You have talked about my child and you have allowed me to share my grief. I thank you for both.

I need diversions, so I do want to hear about you, but I also want you to hear about me. I might be sad and I might cry, but I wish you would let me talk about my child; my favorite topic of the day.

I wish you wouldn't expect my grief to be over. These first years are traumatic for me, but I wish you could understand that my grief will never be over. I will suffer the death of my child until the day I die.

I am working hard on my recovery, but I wish you could understand that I will never fully recover. I will always miss my child and I will always grieve that she is gone.

I wish you wouldn't expect me "not to think about it" or "be happy". Neither will happen for a very long time, so don't frustrate yourself.

I wish you understood how my life has shattered. I know it is miserable for you to be around me when I'm feeling miserable. Please be as patient with me as I am with you.

When I say, "I'm doing okay", I wish you could understand that I don't "feel" okay and that I struggle daily.

Your advice to "take it one day at a time" is excellent advice. However, a day is too much and too fast for me right now. I wish you could understand that I'm doing good to handle an hour at a time.

Please excuse me if I seem rude, certainly not my intent. Sometimes the world around me goes too fast and I need to get off. When I walk away, I wish you would let me find a quiet place to spend time alone.

I wish you understood that grief changes people. When my child died, a big part of me died with her. I am not the same person I was before my child died and I will never be that person again.

I wish very much that you could understand ~ understand my loss and my grief. But...

I pray daily that you will never understand.
~by Compassionate Friends

January 9, 2009
Happy 2nd Birthday sweet Hannah. When I close my eyes, I try to imagine what this day would have been like with you here. I see a cute little girl in pigtails sitting in front of her pink birthday cake. Family and friends surround you smiling, laughing, and singing you Happy Birthday. I picture you with so much life, so full of energy. But then, I open my eyes and reality hits me hard. Instead of a day filled with happiness, your Daddy and I stand alone at your special place for your Birthday. There is no laughter, no party, no little girl full of life. Instead of singing, there are tears. It is not at all what we had envisioned for the future with you. I do hope Hannah that you are surrounded by lots of love, laughter, smiles and angel friends today in Heaven. Please know that mommy would do anything to give you birthday kisses & hugs today. Much love today & always ~love mommy.

December 12, 2008 Hannah~ Since you have left I have been holding on to the hope that I will see you again someday. I also hold onto the signs that I feel you send to me at times I need it most. Mommy is missing you so much this Christmas and have been longing so bad to have you back. But you have reminded me Hannah that you are here - not physically, but in other ways. From the time that you left, your big brother Jacob believes that you sleep on the moon. This morning he came to me, so excited to tell me of the dream that he had of you that night. Jacob dreamt that he got into his "rocket" and flew to the moon to get you. I had to hold back the tears as I looked into the big bright eyes of your brother, listening to the excitement in his voice as talked about the hope of saving his little sister. He told me that his rocket made it to the moon, but there were so many babies there that he couldn't find you. After explaining his dream to me, he asked the heart-wrenching question of, if he had another dream of you Hannah, could he really bring you back to us, to your home? I had to swallow hard to get the words out to him that no, you would just be forever in his dreams now until he saw you again in heaven someday. What makes me believe that you were reaching out to us even more, is that I woke up last night in the middle of the night to a big, bright moon shining on my face through the window. It has never waked me up before like that. The light from it was brilliant. To me, these are not coincidences, it's believing. I feel these two together are signs from you Hannah. I feel like you were trying to remind me in your own little spectacular ways that you are here - something that I so desperately needed to be reminded of. I thank you for reaching out to us last night Hannah and blessing us with your precious presence. Mommy loves you sweet baby girl - to the moon and back. Please keep sending me the much needed reminders. Love~ Mommy
July 23, 2008
A milestone was reached today sweet Hannah. Your little baby brother Dylan turned 86 days old - the same number of days that you were with us sweetie. Those 86 days with you I hold close to my heart and hang onto tightly. As Dylan reaches new milestones - his first word, first step, first "I love you"......I will always think of you Hannah. I wish I would have been blessed with more days with you to experience your "firsts". It tugs at my heart to know of all of the things that I will miss seeing you do. Your daddy and I had so many hopes and dreams for you - hopes and dreams that were shattered the day that you left. I now have a new hope and dream of you Hannah - to see you and your beautiful smile again sometime soon. Please watch over your baby brother as he attempts all of his new firsts. I know that he will make you proud. Loving you always Hannah and missing you dearly, love mommy.
Hannah's Baby Brother Dylan Shay
April 4, 2008
A year ago today, my life changed forever. The day that you had to leave us sweet Hannah to go to heaven was one of the most difficult times in our lives - and continues to be. Living life with a broken heart has been a challenge this past year. Harder than I could have ever imagined. I have had many tell me that time heals all wounds. So far, I do not believe in that. My wound, my broken heart, is still here - wide open. When you left baby girl, a part of me left too. I find that I am not the same person that I used to be and I long for that. Happy days and smiles use to come easy - now I have to search for them. Life should not have to be such a challenge every day. As each day goes by without you, I can't help but to think of the many "whys" and "what-if". They haunt me to this day. I know that God chose you to become a special angel a year ago, but in my heart and in my mind, I feel that it was far too soon for you to go. If I would have only known. I question myself all the time about that terrible day. Was there something that I missed that final morning with you? Could I have done something differently to save your precious little life? I feel like I have failed you as a mommy Hannah and I am so sorry for that. I should have somehow saved you so that you could be here with your daddy and big brother Jacob who both miss you so much. This hangs heavily on mommy's shoulders. Please Hannah, send some extra love and strength to mommy and daddy today to help us get through this. We love you dearly and cherish every precious moment that we had with you. We will never forget you baby girl - I promise you that. Loving you forever and looking forward to seeing you again in heaven, love ~mommy.

Thank you Angie for this picture and remembering Hannah.
March 23, 2008
Happy Easter Sweetheart. I hope that you are having fun with your colorful Easter eggs in Heaven. I can't help but not to feel the same about Easter this year. Easter to me is only a reminder of the painful Easter weekend last year when we laid our little girl to rest at the cemetery. Easter weekend was the last time I got to see you, touch you, hold you, and was the last chance I got to absorb every physical detail about you. The Easter holiday is suppose to be the start of spring. The start of new beginnings and new colors. To me, many days are just the opposite - many days I only see gray. The colors of life don't seem to be here. They are so difficult to find since you left. Life is so different. Please sweetheart, with the start of the new season, send mommy some warm sunshine and pretty colors. Love, hugs & kisses always, Mommy.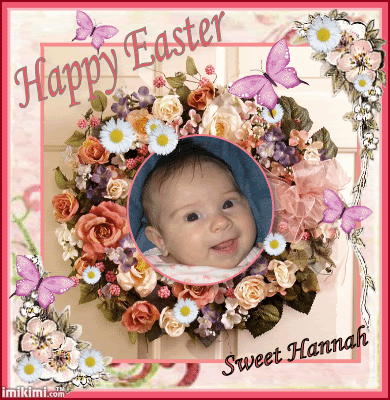 Thank you Angie Means (Jace's mommy) for this picture of Hannah.
Wishing you a happy Easter in Heaven sweet Hannah!
January 24, 2008
Hi sweetheart. I hope you know how many people miss and love you dearly. One, being your big brother. Jacob misses you so much and talks about you everyday Hannah. Just today, he told me how he wanted to share his chocolate chip cookies with you. He wanted to save a special one just for you so that he could give it to you in heaven. He also mentioned how he would break it up in pieces since you were still a baby and couldn't eat it whole. I find it amazing how he relates the moon, pink sunsets and butterflies all to you Hannah. I hope that never changes. Jacob is a very special little boy. He has helped pull your Daddy and I through some very dark days. I am so very thankful for him. I feel somehow that you and him are still sharing a special bond together even though you are not here physically. Through Jacob, I remember your smile and the twinkle in your eyes. It makes me miss you even more some days. Please keep a close watch over your big brother. I hope you like the snow angel that he made for you at your special place today and I hope that you feel the kisses that he blows to you every night at bedtime. Love you always baby girl ~ love, mommy.

January 9, 2008
Happy first Birthday sweet Hannah. As much as I wish you were here to spend the day with us sweetie-pie, I know that you had the best birthday party in heaven. I can just imagine the pink frosting all over those cute little cheeks of yours from eating your birthday cake. I am hoping that you felt all of the extra love that was being sent to you today on your birthday. So many family and friends love you and miss you so very, very much. This was proven today at a special gathering we had just for you - to celebrate your precious little life. Many who love you met us at your "special place'' to release pink balloons to you and light a pink candle in honor of you. It was a very special and precious moment for your Daddy and I. Having friends and family there to show their love for you helped ease some of the heartache that we were having for you today. We miss you so, and would have done anything to have you here to share your special day with you. I would go to the moon and back to have you in my arms again Hannah. You are my precious little girl, who means the world to me. I'm sending you many birthday kisses and hugs to you in heaven. I hope to see that beautiful smile of yours tonight in my dreams. Love you so very, very much ~ mommy.


Happy First Birthday Sweet Hannah!!!!!!

December 25, 2007
Christmas Day - Last night when I went to bed, I prayed and wished for only one Christmas wish Hannah. My wish sweetie, was to wake up and have this terrible nightmare over. I was hoping that when I opened my eyes, you would be here with us, right where you belong. I could just picture how much fun you and your brother would have opening presents together this morning. But, unfortunately, my wish never came true. This nightmare of living without you continues. So without you here my sweet daughter, I am giving you the only present that I can on this Christmas Day - my ever-lasting love. I love you always ~mommy.


This is a Box of Blessings
Given with love to my Daughter to say
I am missing you so very much
As I remember you on Christmas Day.

Although I cannot see you
And we seem so far apart
You are never far from my thoughts
As I will always hold you in my heart.

You never will unwrap this box
But as you look down from above
You'll know it's a very special gift
Because it's filled with my eternal love.




December 4, 2007
They say that a mother-child bond is one of the strongest bonds there is. I never appreciated this as much as I do now. Sweet Hannah, please know that as each month goes by, this bond I have for you is as strong as ever. I am so very scared that now that you are not here physically and what seems like a million miles away, you will not realize how much mommy loves you or somehow will forget. I don't find it fair that I get to give your big brother hugs and kisses everyday to remind him how much I love him and I can't do the same with you. I so hope and pray that you hear my "I loves you's" that I send to you at least a 100 times a day. I am so afraid that that is sometimes not enough. Please don't forget how much I love you and how I can't wait to see you again to share those hugs and kisses. Love, mommy.
Snowflakes are kisses sent from Angels


November 22, 2007
Thanksgiving Day. When I think of this day and the upcoming holidays, I think of family. Things are very different now. To me, they are just a huge reminder that you are not here Hannah and our family is not complete. I have to admit, I don't feel that it is fair. My heart aches so bad for you today - more than normal, and I didn't even think that was possible. I wish you were here so very much. I am thankful though, that I gave birth to a beautiful little girl named Hannah. I am thankful that this little girl was in our lives for almost three months. Even for the short time that you were here, you made the world a better place just by being in it. You are such a bright little light. Thank you Hannah for that. Holding you close to my heart always ~ love mommy.

November 4, 2007
Hannah, you are a little miracle. I knew this the moment that you were born and had entered into our lives. In the short time that you were here with us, you touched many hearts and changed many lives, including mine. I know of many people who look at life in a whole new way because of you little girl. Not only are you a little miracle Hannah, I believe that you are a little miracle-worker. From heaven, I believe that you have sent us the miracle of life. I find it amazing that me and your daddy are going to be parents again. I feel in my heart that this is a little gift from you. Thank you Hannah for giving us a little hope for the future - hope for a future that looked bleak and unsure since you left. Please remember little Hannah that this new gift of life is not a replacement of you. There is no one that could ever replace you. Nor, has mommy "moved on" or has "gotten over you" as many may think. In my heart, I don't ever see that possible. You are a part of me Hannah - a part of me that has been taken from me far too quickly and too soon. The pain in my heart and the longing to hold you is no less than it was seven months ago. And although life is still difficult not having you here, I try to get through each day knowing that I will get to hold you and see that sweet face of yours again someday. Please remember Hannah, I will always, ALWAYS hold a special place for you in my heart - that will never change. Loving you and missing you every minute of the day ~ mommy.

October 4, 2007
Hi Hannah~ I hope that you have been having fun up in heaven these past six months. Although I miss you every minute, of every day since you went to heaven, I try to picture your smiling face amongst the clouds in the best "daycare" ever. That's what keeps me going some days. This is a special month for you and many other angel babies ~ it is SIDS Awareness Month. In honor of you sweet girl, I am doing what I can to help spread SIDS awareness. My goal is to go to all of the local daycares and hand out a pamphlet on reducing the risk of SIDS and an infant CPR reference card. I want to do what I can to help prevent this from happening to another family. Today, your angel day, was significant for to me to start this goal in honor of you. As a I went to daycare to daycare, and told your story, I was overwhelmed with the response and support that I received. They were all very appreciative. It hasn't been easy telling your story sweet baby, mommy has tried her best to hold back the tears. So, I am asking you sweetie, please stay by mommy's side as I continue to complete this goal for you. I love you bunches sweet Hannah. Love always, mommy.



September 4, 2007
Hi sweetie~ another angel day. As each month passes without you, I come more and more to the realization of how precious life is and how it should not be taken for granted. That is what you have taught me little girl. All the moments that I shared with you - all the smiles, all the cooing, and all the kisses - I wish I would have taken in all of these moments just a little bit more. You don't realize it until it is taken from you. Listening to a friend today talk about how her daughter got engaged this past week, all I could think about was missing out on seeing you get married Hannah. I will never get to share those special mother/daughter moments with you, like seeing you for the first time in a wedding dress, or holding that first child of yours. I hope my friend realizes all that she has and doesn't take these moments with her daughter for granted. Keep sending your love down to us little girl. Mommy could use some extra kisses in the wind from you. Love you lots Hannah. Hugs & kisses to you, mommy.

August 24, 2007
Hi Sweetheart~ I took your brother to his first day of preschool today. I am sure you were smiling down at him with pride. Mommy wishes so bad that you could have been here for his first day of school and to give him a kiss good-bye in his classroom. Leaving the school, I come to realize that I would never get to take you to your first day of school - one of the many things that I will miss out doing with you. It breaks my heart Hannah to think of that. Keep looking over your brother as he grows up so fast. I know that he has the sweetest angel watching over him. Love you always and missing you every minute of the day, mommy.

August 13, 2007
Hi baby girl~ I find it amazing how your little life left such a huge impact on me. I seem so lost and so empty at times since you left us Hannah. It's been difficult starting over and living each day without you here. To try to get back into life, me, your Daddy and Jacob went on a trip this past weekend. What was suppose to be a family vacation just wasn't the same without the whole family there - we were missing you. On this "vacation" we thought of you often Hannah - even Jacob. He mentioned you many times. He misses you so much too. While walking by a children's clothing section, Jacob came across a cute little sleeper with flowers and butterflies on it (in pink of course). He said that he wanted to buy it for you so that he could give it to you. I reminded him of how you were in heaven, and he was quick to say "lets give it to her when she comes back down". I wish so much you could come back down from heaven; so much it hurts. But, I know that heaven is your new home now. It is a home that me, Daddy and Jacob will see you at again someday. I can't wait til that day comes. Until then, don't forget I love you and miss you Hannah. Keeping you close to my heart sweetie - love, mommy.

August 4, 2007
Hi sweet Hannah~ A day doesn't go by that I don't think about you a million times over. Mommy misses you so very much - that will never change. When I look back to the days of these past months, I thank my lucky stars for all of the people that have been here for me, your Daddy and brother Jacob. Old friends who I have gotten closer to, family who I love even deeper, and new friends who have entered my life because of you sweet girl. I want to thank you Hannah for sending these amazing people to me to help me get through the tough days. Without them, I don't know where I would be. I can't express enough how thankful I am for all of the hugs, caring words, and encouragement that I have received from friends and family. People have been so kind and so thoughtful, even to this day, to go out of their way to stop by, call or send notes to us to let us know that they are thinking of us. It warms my heart to know how many good people there are in this world - people who truly care. Hannah, please keep a watchful eye on these angels here on earth. I hold them all close to my heart, just as I do with you. Remember always sweet girl, I think that you are an amazing daughter and I will always love you with all of my heart. Hugs & kisses, love~ mommy.

July 23, 2007
Hi sweetie~ a good friend told me after you passed that I really needed to focus on my surroundings and look for signs that you are all around. What I have come to notice sweet Hannah is that you have sent me many butterflies these past months. Beautiful orange and black butterflies have entered my life at times when I have needed it most – times when I am missing you. Just as quickly as they appear, they soon float away - just as you did in my life Hannah. I truly believe these butterflies that have visited me are you. Times when I was sitting outside at night thinking of you, and a butterfly floated by to say hello – I believe that was you. When Jacob and I were blowing bubbles to you and a butterfly floated around Jacob – I believe that was you. While walking Bogey at night and a butterfly touched his nose – I believe that was you. When I was planting your pink rose bush and a butterfly landed on my right hand – I believe that was you. Tonight, while visiting you at your grave site, when the tears fell more than normal, a butterfly fluttered in front of me – I believe that was you. I have come to realize that you are here Hannah, more than ever. I truly believe that. Thank you for coming to me and letting me know that you are content and happy. Tonight I go to bed saying two prayers. I first pray that you keep coming to me Hannah to remind me that you are all around me and are watching over me. My second prayer is for all of the mommies who have gone through the devastation of losing a baby. I pray for them to keep believing – believing that their little angels are always there beside them and are always keeping a close watch over them. Thank you again sweet Hannah. I love you and miss always, love mommy.



July 22, 2007
Hi sweet Hannah~ I am sitting here reflecting over the weekend and have realized the steps that I have taken. One major step this weekend, was moving your sweet little crib from your Daddy's and my room to your brother's room which you would have shared with him. I knew it was something that I needed to do, but have put off knowing how hard it would be. Waking up each morning to an empty crib is one of the most difficult things to do. I wish I'd be waking up to your sweet little face each morning Hannah. But, since I can't, I know in my heart you wouldn't want mommy & daddy to feel sad every morning and would want us to put your crib in a different room. Not away yet, but in a place where I don't have to be reminded each night and every morning that it is empty and that you are not here. As I took the crib apart, just to put it back together in the room across the hall, I kept talking to you and reminding you sweet Hannah that I am not trying to remove you from my life, not by far. I am trying to find some strength and peace within. What I desperately desire is to feel the warmth and happiness inside of me when I think about you....not just sadness. One of the most difficult parts about moving your crib Hannah was seeing it across the room from Jacob's bed. You two would have had so much fun sharing a room, sharing special moments.

Another milestone for me this weekend was meeting angel Jace's mommy Angie in person. It is something that I have longed to do since the first day that she called our home - the day after your funeral Hannah. I know in my heart that Angie was sent to me by you and sweet Jace. She has been such an inspiration and light in my life when I needed it most. It breaks my heart though, to know the pain that she is going through and the tough road that she has ahead of her. I wish no mommy, especially Angie, would have to endure something like losing their precious child. I am so hoping though, that we will continue to lean on each other and find strength in knowing that we are not alone - we have each other. I also hope that our two broken hearts will someday be a little less broken and the pain will be a little less intense as we continue this difficult journey together without our little angels here. Thank you Hannah and baby Jace for bringing Angie to me. She is truly a blessing from above. Thinking of you always Hannah, luv ~ mommy.

July 9, 2007
Happy six month birthday sweet baby girl. Even before you were born I would say to your Daddy how I couldn't wait until you were six months old. I remember all the fun things that I did with your brother at that age, and I couldn't wait to do the same fun things with you. But, those plans with you are lost and no longer possible. I find it amazing how my plans, my future, my life, changed the instant that you were ripped away from us Hannah. My life has not been, or ever will be, the same since "that day". It is almost like starting a new life completely over; a new life that I am not sure I am ready for or even want. I am though, trying my hardest baby girl to keep living - living a full life for your Daddy and brother Jacob. Moving forward though is difficult with the constant reminders that you are not here seem to follow me everywhere I go. Yesterday at church we sat next to a baby girl that looked so much like you sweet Hannah. From the soft brown hair to the big beautiful eyes, all I thought about was you and missing you. Keep smiling down to us to help us during this everlasting difficult journey without you. We love you and miss you always! ~ Luv, Mommy

July 4, 2007
Hi there sweet girl. I can't believe that it has been 3 months ago today that you got your little angel wings. Time has been going so slow without you, that it seems like an eternity ago that you were last with us. You have now been gone to heaven the same length of time that I got to hold you in my arms sweetie. That is something very difficult for mommy to accept. I miss you so much Hannah that I am still having trouble some days coming to the realization that you are gone. In my mind sometimes, I believe that you are just at Grandma's and that you will be coming home soon. But, unfortunately, Grandma has not shown up on our doorstep with you in her arms. Please know Hannah, that I think of you often and that I will never forget you, nor will your Daddy and Jacob. You left quite an impression on all those who met you Hannah. There are many that hold you close to their hearts, as so do I. We will be thinking of you tonight Hannah as we look up to the stars to watch the fireworks. I know it will be quite the show for you. I wish so very much that you would be watching your first fireworks show with us Hannah. I do know that you will be with us in spirit though. I was so looking forward to putting you in your cute little red, white & blue stars dress that I bought for you months ago. You would have looked absolutely adorable in it along with the little matching sunhat. Instead though, I took your sweet little dress out to your grave site along with some flowers. I kept your little stars hat close to me today in hopes that it would somehow help ease some of the pain that I'm feeling today. Please smile down on us tonight little girl as we will all be looking up to you and wishing you were here. Hugs & kisses to you sweetie. Love you always & forever, mommy.

June 16, 2007
Today was our annual Ekeren family reunion. It was a day that I wanted you here Hannah so very much. I was so looking forward to sharing our beautiful little girl with all of our extended aunts, uncles and cousins. But, instead I only got to share memories and photos of you. In honor of you Hannah, your immediate aunts, uncles, cousins, and your grandpa and grandma let pink balloons to you up in the sky. I hope you were smiling down at us as tears were shed for you Hannah. You were in my thoughts constantly today little girl, and although not everyone got to meet you, they think the world of you, as so do I. Love always, mommy.



June 9, 2007
Today you would be five months old little girl. You'd be approaching such a fun stage in your life. A time when you would be exploring so much around you and gaining such a wonderful little personality. I still can't believe that you are gone. I often close my eyes just to see your bright little face again which I miss so dearly. I can't wait to see that sweet face again....someday. I hope that you like the pink balloons that your Daddy, Jacob and I sent to you today. Have fun playing with all of your angel friends. Love you always ~ Mommy

June 4, 2007
Hi there sweet girl, today you have been up in heaven for two months. To me, it seems like you have been gone an eternity. It seems like forever ago that I've seen your beautiful face, gazed at that sweet smile, and last held you in my arms. I would do anything to see you one more time Hannah. I miss you so very, very much. The pain in my heart is so intense and so deep for you. Having you gone is like a part of me is gone. People tell me that it will get easier each day. I'm not finding any truth to that so far. The ache to have you here is just as strong as it was the day that you left us. You are never far from mommy's thoughts Hannah. I think of all the things that you might be doing now. Would you be rolling over? I remember watching you turn to your left side to try to get a good look at your brother. You loved watching Jacob and his silly ways. What color would your eyes be by now sweetie? They were a dark blue when you left us. Would they be brown like your mommy's and brother Jacob's? It hurts me knowing that I will never get to find out. Please continue to look over mommy from the clouds up above. Send me some extra kisses in the wind. I love and miss you always Hannah. See you in my dreams. XOXOXOXO
Love, mommy

May 29, 2007
My sweet little Hannah, not only do me and your Daddy miss you with all of our hearts, but so does your big brother Jacob. He mentions you all the time. Just on Sunday while jumping on uncle Les's trampoline, he said "look at me mom - I'm jumping really high; I'm going to jump to the clouds to see baby Hannah". He said that he missed you and wanted to "give you a hug and kiss up in the clouds". His little legs couldn't get him high enough though Hannah. So, for now, he is blowing kisses up to you in the sky. Another time that he made reference to you Hannah was while he was playing - he said to me, "Hannah wants me to come up to the sky and play mommy". It just breaks my heart Hannah that you two won't be able to play together here on earth. You both will have to save your play dates for heaven. I hope you like the bubbles that we blew up to you this past weekend. We think of you always Hannah and miss you dearly. Hugs & kisses ~ luv mommy.

May 20, 2007
My sweet baby girl, I went to your cousin Sarah's dance recital tonight. With every little girl that danced, every song that was played, every moment of the night, I thought of you. I had such hopes and dreams for you Hannah. I had hoped to see you dance someday on that same stage as your cousin. All of those hopes and dreams have been crushed though. I can only hope now, is that I will see you dance someday amongst the clouds. I am so looking forward to it. Keep dancing a beautiful dance Hannah. Hugs and kisses always, love mommy.

May 13, 2007
Mother's Day ~ today is suppose to be a special, happy day for Mom's all around. I can't help though, to be very sad today while thinking of you my little girl. My cherished memories of you are sometimes not enough to cover the pain and the longing to hold you again. I miss you so much Hannah. Please don't ever forget your mommy. I know that I will never forget you, my little sweetie-pie. You are on my thoughts constantly. Today at church they played "You Are Mine", a song played at your funeral. I tried to keep the tears back, but it was too much for me to hold in. The ache I feel for you is strong and so deep. I know that this will never go away. So today, my little girl, say an extra payer for your mommy. A prayer for your mommy to stay strong and to never give up hope. I love you Hannah. With hugs & kisses, mommy.

A poem a good friend gave to me in remembrance of you:

Letter to Mom
Mom, please don't feel guilty
It was just my time to go.
I see you are still feeling sad,
And the tears just seem to flow.

We all come to earth for our lifetime,
And for some it's not many years.
I don't want you to keep crying
You are shedding so many tears.

I haven't really left you
Even though it may seem so.
I have just gone to my heavenly home,
And I'm closer to you than you know.

Just believe that when you say my name
I'm standing next to you,
I know you long to see me,
But there's nothing I can do.

I'll still send you messages
And hope you understand,
That when your time comes to "cross-over"
I'll be there to take your hand.
~Author Unknown





For all the babies who fell asleep on earth
and woke up in Heaven.

Please light a candle for our little Hannah. It means so much to us to keep her memory alive.

We are so lucky to have had you in our lives.

We love you Hannah!!